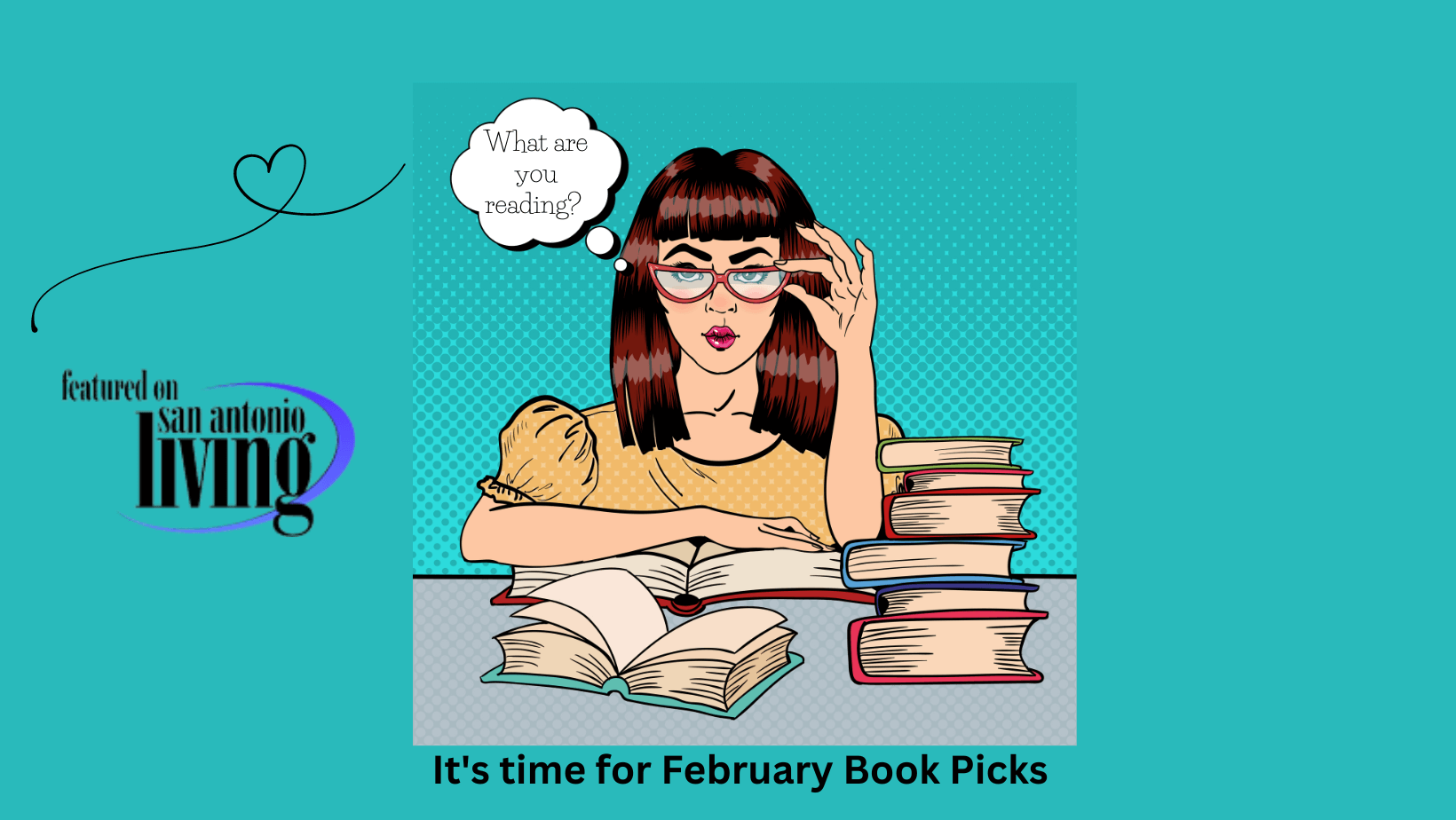 It's February. The month of hearts, love, and amazing history, all of which I'll get to in a moment.
But first, great big shout out to actress Viola Davis who has become the 18th person to receive the honor of being an EGOT (Emmy,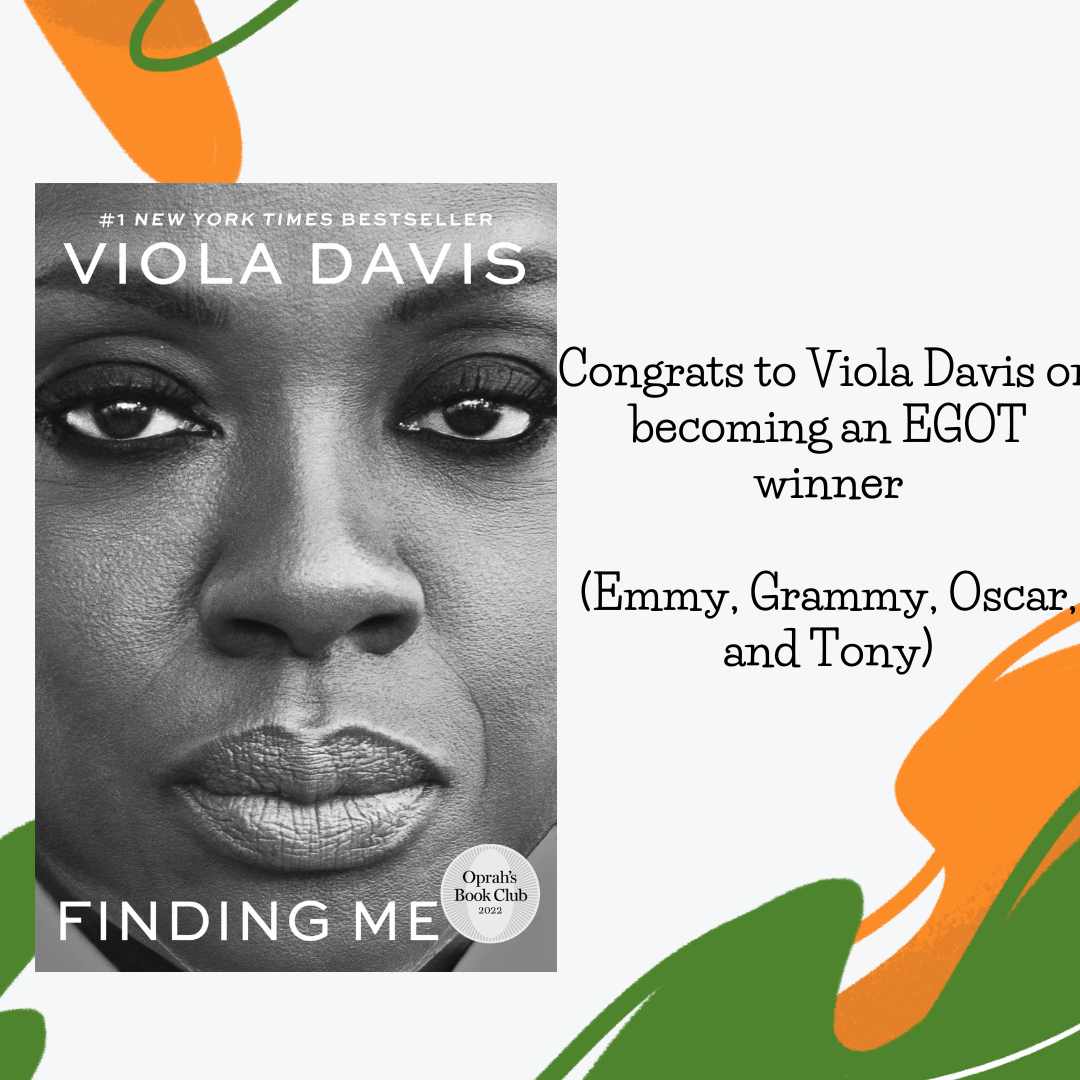 Grammy, Oscar, and Tony).
Sunday, she received the Grammy for her live book reading of Finding Me, which rounded out the EGOT.
She's in company with Jennifer Hudson, Audrey Hepburn, Whoopi Goldberg, John Legend, Rita Moreno, and Andrew Lloyd Weber.
She won an Emmy win for How to Get Away With Murder (2015), an Oscar for Fences (2017), and a Tony for both King Hedley II (2001) and Fences (2010).
Listen, this is a super big deal as she's the 18th person in ALL of entertainment to earn all four prestigious awards.
Plus, she's also won Golden Globes, BAFTA (British Oscars), and Screen Actor's Guild (SAG) awards as well, so just like her DC character Amanda Waller, she's an all around badass.
Now, back to the books I covered from my San Antonio Living segment today and I mentioned a lot of them.
First, I'm going to hit Black History.
I've heard the (ignorant) discussion over the years that we shouldn't have a Black History month. The reasons vary, most of which make me want to scream into the void, but here's the tickle of it all as I see it.
Face it, American history has tried to ignore and erase the contributions of a large group of our citizens. Laws changed so that anyone of color was denied the right to vote, own a house, get medical care, marry who they loved, a fair police system, or even an education.
If standard school curriculum included many of the black inventors, medical professionals, writers, performers, and game changers so our kids (and us) were totally familiar with names like Mary Seacole, Lewis Latimer, Sarah E. Goode, Ida B. Wells, Cool Papa Bell, and Sissiertta Jones, as much as we were to George Washington, Albert Einstein, Paul Revere, Elenor Roosevelt, and Babe Ruth, then we wouldn't need a Black History Month.
It could be American History because it is.
Trying to erase or minimize the contributions and amazing accomplishments of our fellow citizens is ugly and wrong. It's still happening, which means it can't be ignored or brushed aside, hoping things will self correct. Especially when the powers that be won't go there and are fighting like hell to keep anyone else from learning.
It should also make all of us question why policy makers want to erase people who made our country, our world incredible.
That leaves each of us to be better educate ourselves and if you have to, start with a kids' book, because knowledge is power friends. But sometimes, that knowledge is better served and absorbed in smaller bits.
Now, I'm off my soapbox, but I do have a great list of reads for you to find on my storefront on Amazon, libraries such as San Antonio Digital Library, (you can borrow from anywhere) or local bookstores like NoWhere Bookshop.
One of the best ways to learn is to admit you've got something to learn, because we all do.
It's okay to be uncomfortable when reading some of these books. Staying in our comfort zones doesn't change anything, but when we shake things up, especially when we push ourselves out of those comfort zones, we have the great potential to learn.
Expand your library and mind with great books by black authors, black history, and the black experience by adding one or some of the books that were on the display table.
Or even search for your own and let me know if there are any you suggest.
(Note, I will erase comments that promote racism, hate speech, or threats. They will also be reported.)
Book suggestions: 
Up From Slavery by Booker T. Washington
What is Juneteenth?
Who is Stevie Wonder?
Who Was Maya Angelou?
Who Was Frederick Douglas?
Who Was Harriet Tubman?
What Was the March on Washington?
American Girl Series-The Underground Railroad
Who are Venus and Serena Williams?
What Were the Negro Leagues?
Step into Reading Level 5-Baseball's Best: Five True Stories
History Maker Bios: Matthew Henson by Maryann N. Weidt
Black Women in Science by Kimberly Brown Pellurn, PhD
Remember My Name by Mo'Ne Davis and Hilary Beard
I am Jackie Robinson by Brad Meltzer and Christopher Eliopoulos
I am Rosa Parks by Brad Meltzer and Christopher Eliopoulos
I am Martin Luther King, Jr by Brad Meltzer and Christopher Eliopoulos
Tristan Strong Punches a Hole in the Sky by Kwame Mbalia
The Measure of a Man by Sidney Poitier
By her Own Design by Piper Huguley
Across that Bridge by John Lewis
The Truths We Hold by Kamala Harris
Born a Crime by Trevor Noah
We Beat the Street: How a Friendship Pact Led to Success
Say You're One of Them by Uwen Akpan
Life in Motion by Misty Copeland
Fancy Party Gowns: The Story of Fashion Designer Ann Cole Love
Who Is Michelle Obama?
Kid President's Guide to being Awesome
Childhood of Favorite Americans: Clara Barton by Augusta Stevenson
Mary Seacole by Jane Robinson
The Black Church by Henry Louis Gates, Jr
A Strong Right Arm by Michelle Y Green
A Complete History of the Negro Leagues 1884-1955 by Mark Ribowsky
Black Baseball's National Showcase
Black Enough: Stories of Being Young and Black in America
The Misadventures of Awkward Black Girl by Issa Rae
Combat Divas Chronicles: Survival Guide
I Was Right on Time by Buck O'Neil
Josephine by Jean-Claude Baker and Chris Chase
A Hand to Guide Me by Denzel Washington
Run Book One by John Lewis
Raisin in the Sun by Lorraine Hansberry
A Cowboy Kind of Thing by Reese Ryan
I Know Why Caged Bird Sings by Maya Angelou
Their Eyes Were Watching God by Zora Neale Hurston
Bud, Not Buddy by Christopher Paul Curtis
Roll of Thunder, Hear My Cry by Mildred D. Taylor
The Stars Beneath Our Feet by David Barclay Moore
The Watsons Go to Birmingham by Christopher Paul Curtis
Ninth Ward by Jewell Parker Rhodes
The Boyfriend Project by Farrah Rochon
Passing by Nella Larsen
Drinking Coffee Elsewhere by ZZ Packer
Side Chick Nation by Aya De Leon
Heart of Gold by Beverly Jenkins
Reckless by Selena Montgomery
Precious and Grace by Alexander McCall Smith
The Road to Rose Bend by Naima Simone
For a broad overview of many historical and modern day figures from Black History, the multiple volumes of flash cards  from Urban Intellectuals is an absolute must purchase.
Each pack covers multiple people and events. There are themed cards for black women, geniuses in STEAM (science, technology, engineering, art, and music), black history before slavery (1492), black history in general, and Afro-Carribean history. Additionally, there is a pack of trivia cards that you can quiz yourself, your friends, and/or your kids on what you've learned or what to.
It's a great way to learn bits of information of things you may not have known a stitch about. It could be the start of an incredible journey of knowledge.
Great gift for teachers, too. Especially, the ones in states that keep trying to whitewash history.
February is also the month of heart health and multiple studies have shown that taking care of our hearts isn't simply eating well and/or exercising consistently. It's also about mental health and inquiring when things don't seem "quite right".
I recommend these books for your physical, emotional, and mental well-being.
Love is in the air and I've got plenty of books for every lover of romantic comedies and of course, a bit of shameless self-promo at the end.
Whether you're in an amazing relationship, working through one, or haven't found your person yet, understand love comes in all forms and on its own time. I sounds trite, but believe me when I say love will happen for you when it damned well wants to.
In the meantime, be the best possible you, you can be because if you are, you will find someone who wants you, not needs you.
Okay, now let's get to those books. For lovers of romantic comedies, contemporary romance, or simply a well-written story, there are a variety of books to choose from.
That's all I've got for now, friends.
Tell me. What's your favorite romantic trope and have I included it here?
Any book recommendations you suggest for any of our themes this month?
List them in the comments and keep on reading friends.