With the new year underway, it's time to check out great reads that absolutely should be on your TBR (To be read) pile.
Want a great biography? Ideas for fun date nights? A fantasy romance or great romance?
I've got some great suggestions so check out these books and their official book bios:
Undaunted: Surviving Jonestown, Summoning Courage, and Fighting Back
Congresswoman Jackie Speier from California has retired after serving 30+years, but this is the moment where she decided to run for office.
She was twenty-eight when she joined Congressman Leo Ryan's delegation to rescue defectors from cult leader Jim Jones's Peoples Temple in Jonestown, Guyana. Ryan was killed on the airstrip tarmac. Jackie was shot five times at point-blank range. While recovering from what would become one of the most harrowing tragedies in recent history, Jackie had to choose: Would she become a victim or a fighter? The choice to survive against unfathomable odds empowered her with a resolve to become a vocal proponent for human rights.
From the formative nightmare that radically molded her perspective and instincts to the devastating personal and professional challenges that would follow, Undaunted reveals the perseverance of a determined force in American politics. Deeply rooted in Jackie's experiences as a widow, a mother, a congresswoman, and a fighter, hers is a story of true resilience, one that will inspire other women to draw strength from adversity in order to do what is right—no matter the challenges ahead.
"UNICEF thought that with my mother they would get a pretty princess to show up at galas. What they really got was a badass soldier." – Luca Dotti, Audrey Hepburn's son. Warrior: Audrey Hepburn completes the story arc of Robert Matzen's Dutch Girl: Audrey Hepburn and World War II. Hepburn's experiences in wartime, including the murder of family members, her survival through combat and starvation conditions, and work on behalf of the Dutch Resistance, gave her the determination to become a humanitarian for UNICEF and the fearlessness to charge into war-torn countries in the Third World on behalf of children and their mothers in desperate need. She set the standard for celebrity humanitarians and–according to her son Luca Dotti–ultimately gave her life for the causes she espoused.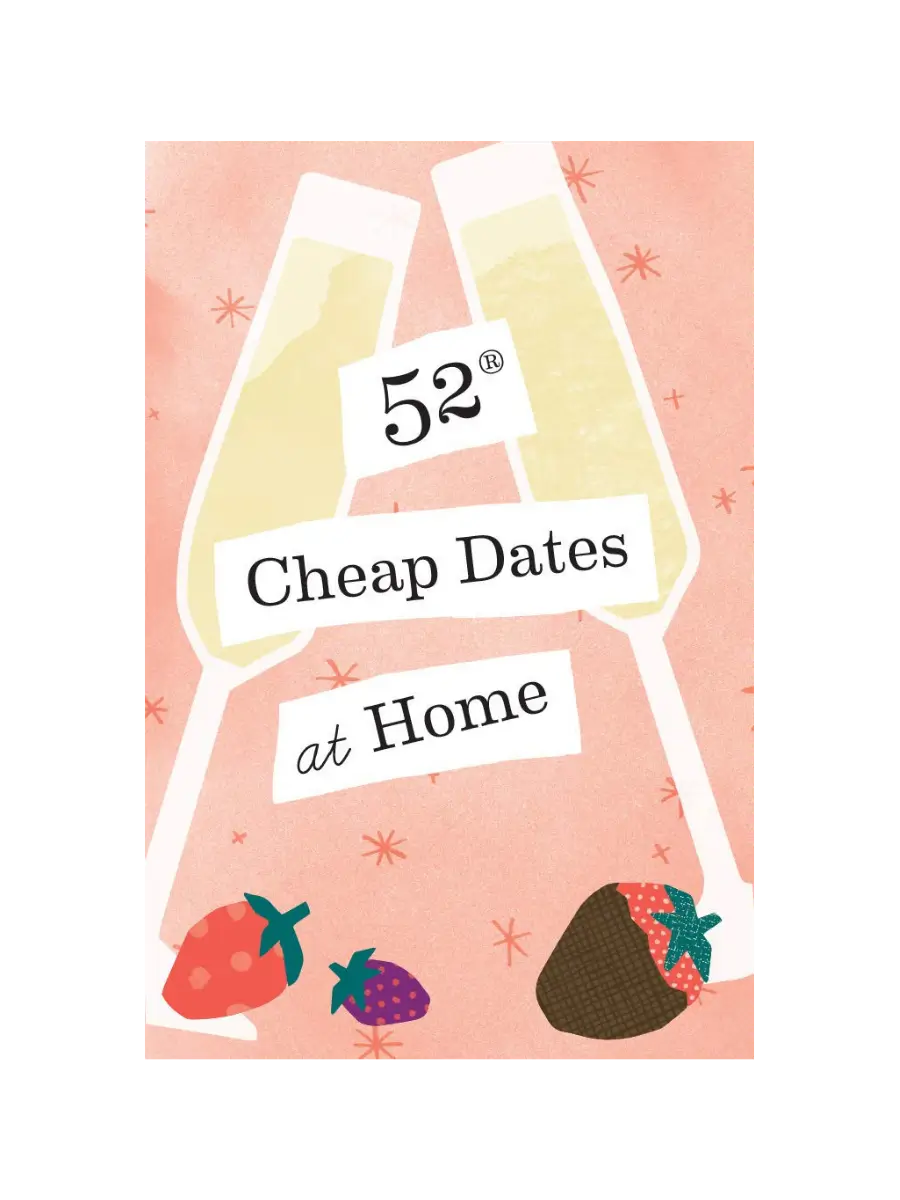 With the holidays over and bills arriving or simply being exhausted from all the end of year chaos, I suggest these fun cards to keep the spark going without breaking the bank.
You pick a card a week and do something new and flirty.
Ideas include home spa, body painting, and cooking a meal together.
These and multiple other games, books, and other items can be found at the Sexology Institute on South St. Mary's. There is curbside pickup.
Website is sexologyshop.com
You can also find the digital and print versions Amazon.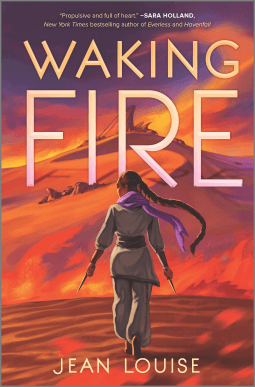 Waking Fire by Jean Louise (Young adult fantasy)**
This incendiary YA fantasy debut follows a girl who will stop at nothing to save her village after it's discovered by a dangerous warlord and his army of undead monsters.
Naira Khoum has only known life in Lagusa, a quiet village at the desert's end. But to the rest of the world, Lagusa is a myth, its location shrouded in secrecy. While war rages to the north led by power-hungry Sothpike and his army of undead monsters called Dambi, Naira's people live in peace.
Until the impossible happens—Lagusa is attacked by a Mistress sent to do Sothpike's bidding with a hoard of Dambi under her control. The Mistress is looking for something, and she's willing to let her Dambi destroy Lagusa to get it.
Desperate to protect her home, Naira convinces her twin brother Nez and handsome refugee Kal to join the newly formed resistance with her. Together, they'll have to figure out what the Mistress wants—before there's nothing left of Lagusa to save.
Wonder Woman: Historia by Kelly Sue DeConnick and Phil Jimenez two amazing and award-winning storytellers and artists. This series is a visual feast.
Millennia ago, Queen Hera and the goddesses of the Olympian pantheon grew greatly dissatisfied with their male counterparts…and far from their sight, they put a plan into action. A new society was born, one never before seen on Earth, capable of wondrous and terrible things…but their existence could not stay secret for long. When a despairing woman named Hippolyta crossed the Amazons' path, a series of events was set in motion that would lead to an outright war in heaven—and the creation of the Earth's greatest guardian!
Black Label book from DC Comics and I picked Volume 3 from Gotham Newsstand and I have volume 2 on order from Dragon Lair Comics in the medical center.
You can also get them digitally.
For anyone who loves Wonder Woman and/or the comics, this is a must.
It starts with the creation of the Amazons, the empowerment of women as they navigate some confrontations against the status quo and those who would and have, oppressed them.
Kelly Sue DeConnick changed several things Captain Marvel and Ms. Marvel comics and makes a cameo in the movie. She's worked on Spiderman, Aquaman, The Avengers, and she's a Longhorn.
Phil Jimenez has worked on The New XMen, Supergirl, Superman, Green Lantern, and Spiderman.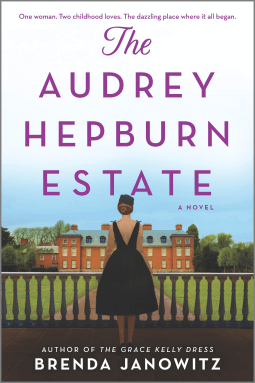 The Audrey Hepburn Estate (preorder now for April 18th, 2023)**
When Emma Jansen discovers that the grand Long Island estate where she grew up is set to be demolished, she can't help but return for one last visit. After all, it was a place filled with firsts: learning to ride a bike, sneaking a glass of champagne, falling in love.
But once Emma arrives at the storied mansion, she can't ignore the more complicated memories. Because that's not exactly where Emma grew up. Her mother and father worked for the family that owned the estate, and they lived over the garage like Audrey Hepburn's character in the film Sabrina. Emma never felt fully accepted, except by the family's grandson, Henry—a former love—and by the driver's son, Leo—her best friend.
As plans for the property are put into motion and the three are together for the first time in over a decade, Emma finds herself caught between two worlds and two loves. And when the house reveals a shattering secret about her own family, she'll have to decide what kind of life she really wants for herself now and who she wants to be in it.
Ship Wrecked by Olivia Wade**
After All the Feels and Spoiler Alert, Olivia Dade once again delivers a warm and wonderful romantic comedy about two co-stars who once had an incredible one-night stand—and after years of filming on the same remote island, are finally ready to yield to temptation again…
Maria's one-night-stand—the thick-thighed, sexy Viking of a man she left without a word or a note—just reappeared. Apparently, Peter's her surly Gods of the Gates co-star, and they're about to spend the next six years filming on a desolate Irish island together. She still wants him…but he now wants nothing to do with her.
Peter knows this role could finally transform him from a forgettable character actor into a leading man. He also knows a failed relationship with Maria could poison the set, and he won't sabotage his career for a woman who's already walked away from him once. Given time, maybe they can be cooperative colleagues or friends—possibly even best friends—but not lovers again. No matter how much he aches for her.
For years, they don't touch off-camera. But on their last night of filming, their mutual restraint finally shatters, and all their pent-up desire explodes into renewed passion. Too bad they still don't have a future together, since Peter's going back to Hollywood, while Maria's returning to her native Sweden. She thinks she needs more than he can give her, but he's determined to change her mind, and he's spent the last six years waiting. Watching. Wanting.
His shipwrecked Swede doesn't stand a chance.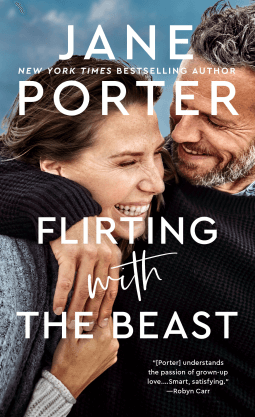 Flirting with the Beast by Jane Porter**
The second book in her Modern Love series.
The first is Flirting with Fifty
It's been five years since Andi McDermott lost her husband, and she's finally starting to feel like herself again, ready to live fully—she's even started dating again. But when her holiday plans with her stepson and his fiancée fall through, she refuses to spend another Christmas alone while everyone is celebrating with their families. Impulsively, she decides to go up to her cabin in Lake Arrowhead, a place she used to love to visit but hadn't gone to in years, not since the feud started between her husband and their nearest neighbor.
Andi starts to rethink her decision when being alone at the cabin proves to be more challenging than she expected—a heavy snowstorm hits the area, and Andi finds herself trapped there with no one to help except for her neighbor, Wolf Enders. A military vet who lives full-time on Lake Arrowhead, Wolf is as grumpy and intimidating as Andi remembers. But he's also unexpectedly kind and uncomfortably sexy—his presence reminds Andi that she may be older, but her body still works perfectly fine, thank you very much. But can this good girl tame this sexy beast of a man, and will this snowy fling turn into a love of a lifetime?
For the entire list of books to purchase, check out my Amazon shop.
Do you have a book you'd like to recommend? An author you love?
Please, let me know in the comments and as always, friends, keep on reading.
**I received an advanced reader copy from the publisher.