We're almost to the end of the school year so it's time to get that list of great books to pick up or find at your local library.
Did you know that San Antonio has a massive digital library? You can check out books without leaving your home.
Check them out here.
Now, on with my list.
For the little ones or anyone who wants a sweet story, I suggest:
Most Perfect You by Jazmyn Simon, illustrated by Tamisha Anthony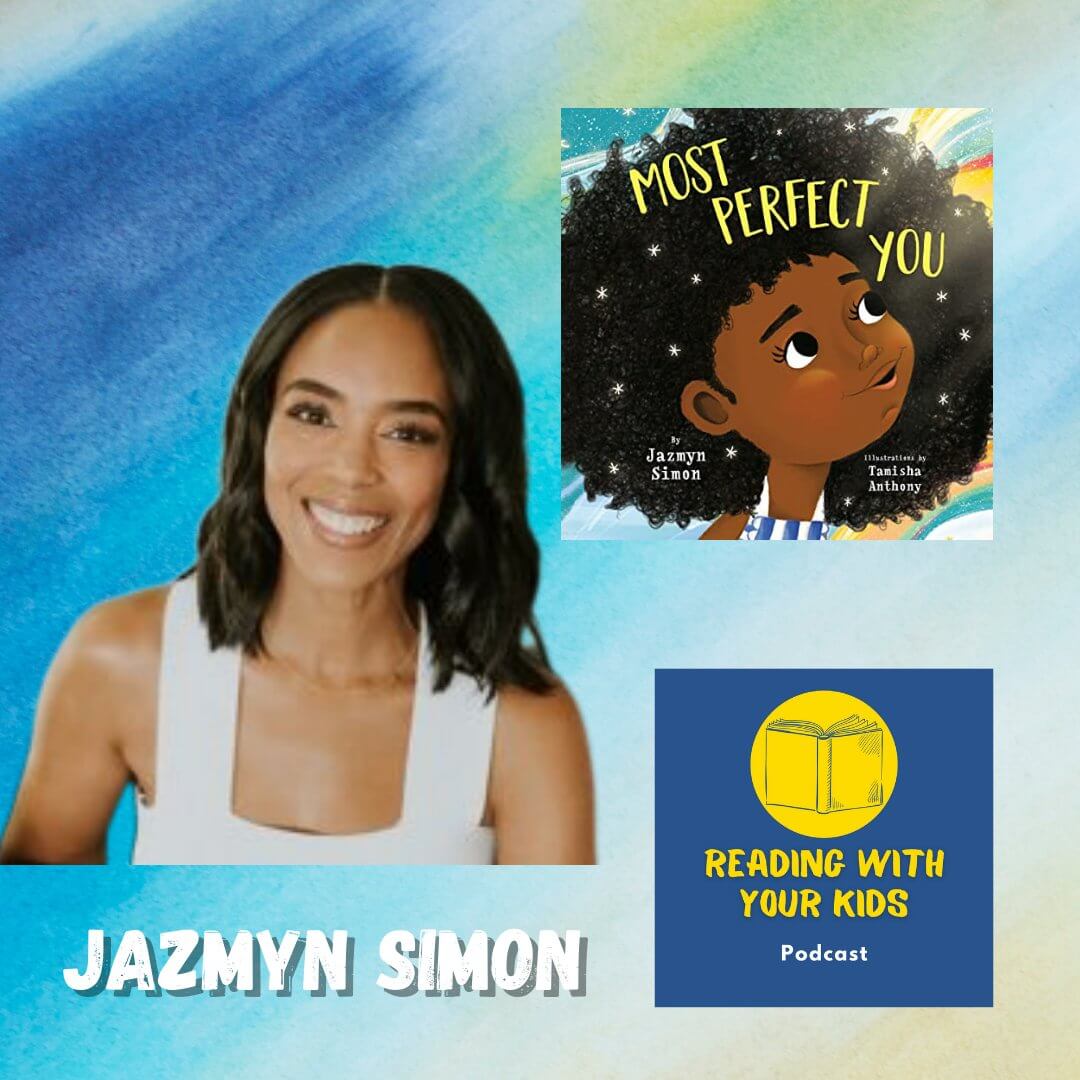 Most Perfect You written by Jazmyn Simon and illustrated by Tamisha Anthony
Inspired by a conversation Jazmyn had with her then, 4 year old daughter, when her daughter said she wanted to be pretty, Jazmyn wanted to create a book that helped children understand and appreciate their uniqueness. To love every freckle, dimple, and be comfortable in their skin.
Beautifully illustrated, it's a sweet book that will help kids and parents open that dialogue of loving who they are right now and the tools to understand how not to compare ourselves to everyone else.
Blurb: After comparing herself to other little girls, Irie confides in her mama that she feels something is wrong with her, that she's not perfect as she is. And so Irie's mama tells the magical story of how Irie was intentionally and wonderfully made. In fact, Irie is made up of all her mother's favorite things: sparkling eyes, a bright smile, and a kind heart.
Actor and activist Jazmyn Simon's tender picture book emphasizes the unique beauty and strength of all children, encouraging them to love their most perfect selves.
Cameron Battle and the Hidden Kingdoms by (Dr.) Jamar J. Perry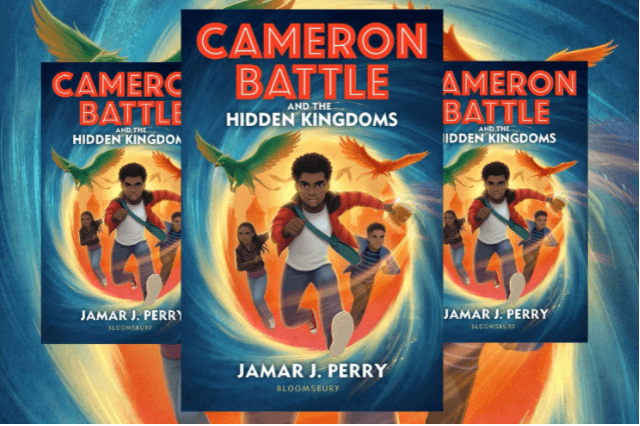 With all the buzz about the live-action Percy Jackson TV series hitting Disney Plus and its castings, you might be looking for a great middle grade book full of adventure, magic, and page turning danger. Look no further than Jamar Perry's Cameron Battle.
Cameron lost his parents a year before and while staying with his grandmother, he is encouraged by his friends to open the book that's been left to him by his parents. He's then sucked into the book to find an amazing world that's very real and has the answers he's been looking for, but with every answer, there's another question and danger is always available to thrown things sideways.
Bringing an amazing world of West African Ibdo mythology and history for anyone who loves adventure, friendship, and page turning tension.
Percy Jackson, Tristen Strong, and Aru Shah readers will dive into the pages of Dr. Perry's debut novel.
Blurb: Cameron Battle grew up reading The Book of Chidani, cherishing stories about the fabled kingdom that cut itself off from the world to save the Igbo people from danger. Passed down over generations, the Book is Cameron's only connection to his parents who disappeared one fateful night, two years ago.
Ever since, his grandmother has kept the Book locked away, but it calls to Cameron. When he and his best friends Zion and Aliyah decide to open it again, they are magically transported to Chidani. Instead of a land of beauty and wonder, they find a kingdom in extreme danger, as the Queen's sister seeks to destroy the barrier between worlds. The people of Chidani have been waiting for the last Descendant to return and save them . . . is Cameron ready to be the hero they need?
Also, big shout out to author Jamar J. Perry who can add another title to his list of accomplishments.
He recently earned his PhD from University of Maryland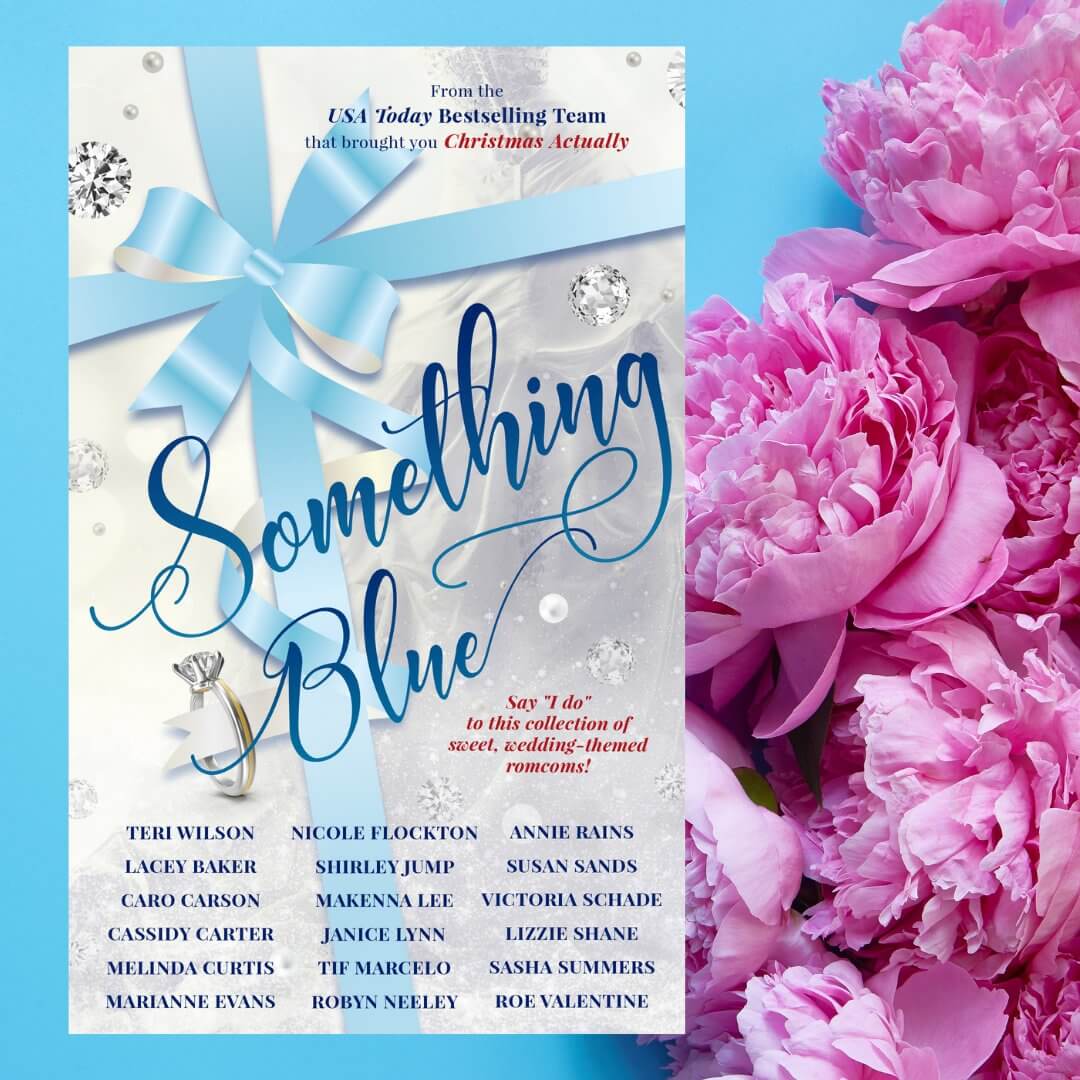 Something Blue Anthology (digital only)
Grab this anthology of sweet, wedding themed rom-coms by amazing authors. Including four local authors that I've mentioned on the show before.
I love anthologies because you not only get stories from authors you love, but new to you authors.
It's $0.99 until it's release day on May 17th so pre-order now.
I have something blue and now I have something totally different.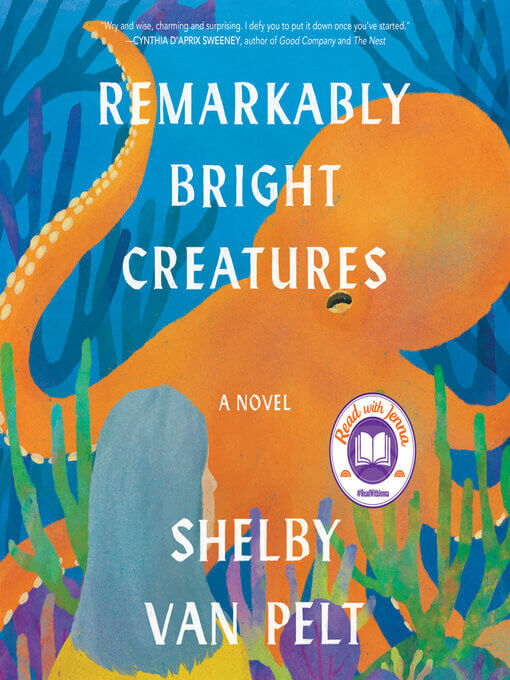 Remarkably Bright Creatures is told through the eyes of both the main character, Tovar, who's works as a night janitor at a Washington State aquarium. She's been recently widowed and every night she sees a giant Pacific Octopus named Marcellus.
This women's fiction novel deals with grief and loss as well as finding the energy and hope to rebuild and face the hard questions about why things happen, specifically, Tovar uncovering the reason her son went missing years before because of the clues the octopus gives her.
Featured on Read with Jenna (Today show), it's gonna take you through the range of emotions so have your tissues ready.
Blurb: After Tova Sullivan's husband died, she began working the night shift at the Sowell Bay Aquarium, mopping floors and tidying up. Keeping busy has always helped her cope, which she's been doing since her eighteen-year-old son, Erik, mysteriously vanished on a boat in Puget Sound over thirty years ago.
Tova becomes acquainted with curmudgeonly Marcellus, a giant Pacific octopus living at the aquarium. Marcellus knows more than anyone can imagine but wouldn't dream of lifting one of his eight arms for his human captors—until he forms a remarkable friendship with Tova.
Ever the detective, Marcellus deduces what happened the night Tova's son disappeared. And now Marcellus must use every trick his old invertebrate body can muster to unearth the truth for her before it's too late.
Shelby Van Pelt's debut novel is a gentle reminder that sometimes taking a hard look at the past can help uncover a future that once felt impossible.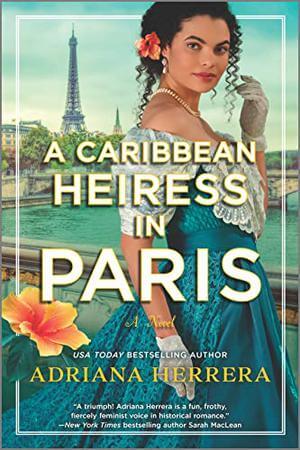 Caribbean Heiress in Paris by Adrianna Herrera (out May 31, 2022)
Set in Paris 1889, Luz is the heir to a rum empire and she's sent to Paris with her two best friends and 300 casks of rum. She's to expand the family business, but she meets James, a Scotsman, who wonderfully complicates her life to distraction.
She doesn't want to fall in love with anyone, just sell the rum, expand the business and prove she's a force to be reckoned with. Problem is, she has to get married to get her inheritance.
This is the first of the Las Leonas series.
Blurb: Luz Alana set sail from Santo Domingo armed with three hundred casks of rum, her two best friends and one simple rule: under no circumstances is she to fall in love. In the City of Lights, she intends to expand the rum business her family built over three generations, but buyers and shippers alike can't imagine doing business with a woman…never mind a woman of color. This, paired with being denied access to her inheritance unless she marries, leaves the heiress in a very precarious position.
Enter James Evanston Sinclair, Earl of Darnick, who has spent a decade looking for purpose outside of his father's dirty money and dirtier dealings. Ignoring his title, he's built a whisky brand that's his biggest – and only – passion. That is, until he's confronted with a Spanish-speaking force of nature who turns his life upside down.
From their first tempestuous meeting, Luz Alana is conflicted. Why is this titled—and infuriatingly charming – Scottish man so determined to help her?
For Evan, every day with Luz Alana makes him yearn for more than her ardent kisses or the marriage of convenience that might save them both. But Luz Alana sailed for Paris prepared to build her business and her future; what she wasn't prepared for was love finding her.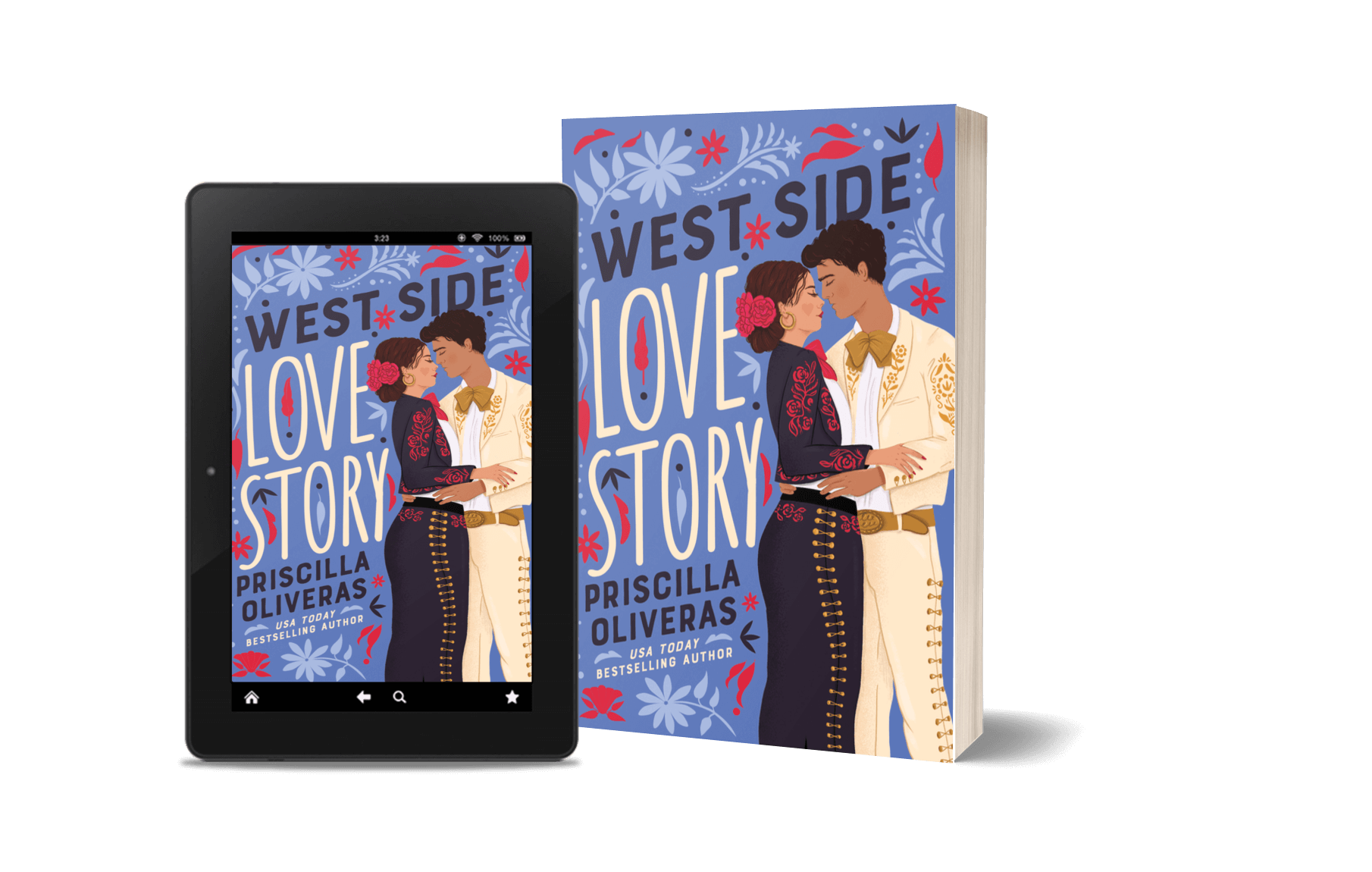 West Side Love Story by Priscilla Oliveras
Think West Side Story set in San Antonio and with dueling mariachi bands.
This vividly told story tells of family, love, and conflict when the two are at polar opposites of the  spectrum.
Blurb: Two familias in Texas, both alike in dignity, rivalries, and passion…
Having grown up in the nurturing household of Casa Capuleta, Mariana will do anything for familia. To solve her adoptive parents' financial problems amid their rapidly changing San Antonio comunidad, Mariana and her younger sisters are determined to win the Battle of the Mariachi Bands. That means competing against Hugo Montero, their father's archnemesis, and his band and escalating a decades-old feud. It also raises the stakes of Mariana's forbidden attraction for a certain dark-eyed mariachi who sets her heart racing.
To Angelo Montero's familia, Mariana is also strictly off-limits. But that doesn't stop him from pursuing her. As their secret affair intensifies and the competition grows fierce, they're swept up in a brewing storm of betrayals, rivalries, and broken ties. Against the odds, they vow to bring peace. But sacrifices must be made and consequences weighed for two star-crossed lovers to make beautiful music together.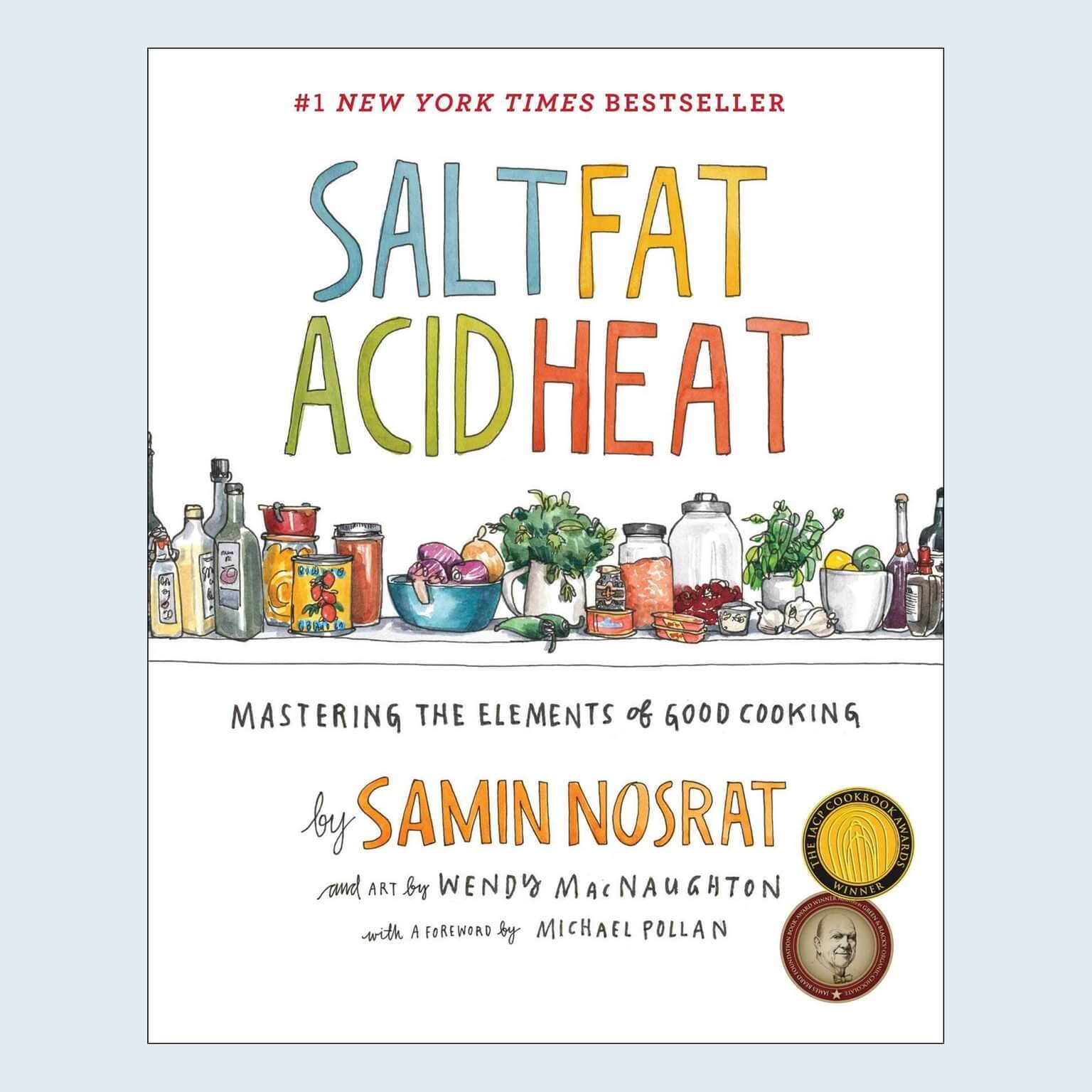 You're not always going to be able to order out. It gets expensive and has way more fat and salt that you should normally consume, so the Salt, Fat, Acid, Heat book will help anyone learn to cook.
Remember in Ratatouille "Anyone can cook?"
This is easy to follow and helps anyone make amazingly good and healty meals.
Blurb: A visionary new master class in cooking that distills decades of professional experience into just four simple elements, from the woman declared "America's next great cooking teacher" by Alice Waters.
In the tradition of The Joy of Cooking and How to Cook Everything comes Salt, Fat, Acid, Heat, an ambitious new approach to cooking by a major new culinary voice. Chef and writer Samin Nosrat has taught everyone from professional chefs to middle school kids to author Michael Pollan to cook using her revolutionary yet simple philosophy. Master the use of just four elements – salt, which enhances flavor; fat, which delivers flavor and generates texture; acid, which balances flavor; and heat, which ultimately determines the texture of food – and anything you cook will be delicious. By explaining the hows and whys of good cooking, Salt, Fat, Acid, Heat will teach and inspire a new generation of cooks how to confidently make better decisions in the kitchen and cook delicious meals with any ingredients, anywhere, at any time.
Echoing Samin's own journey from culinary novice to award-winning chef, Salt, Fat Acid, Heat immediately bridges the gap between home and professional kitchens. With a lighthearted approach to kitchen science, Samin demystifies the four elements of good cooking for everyone.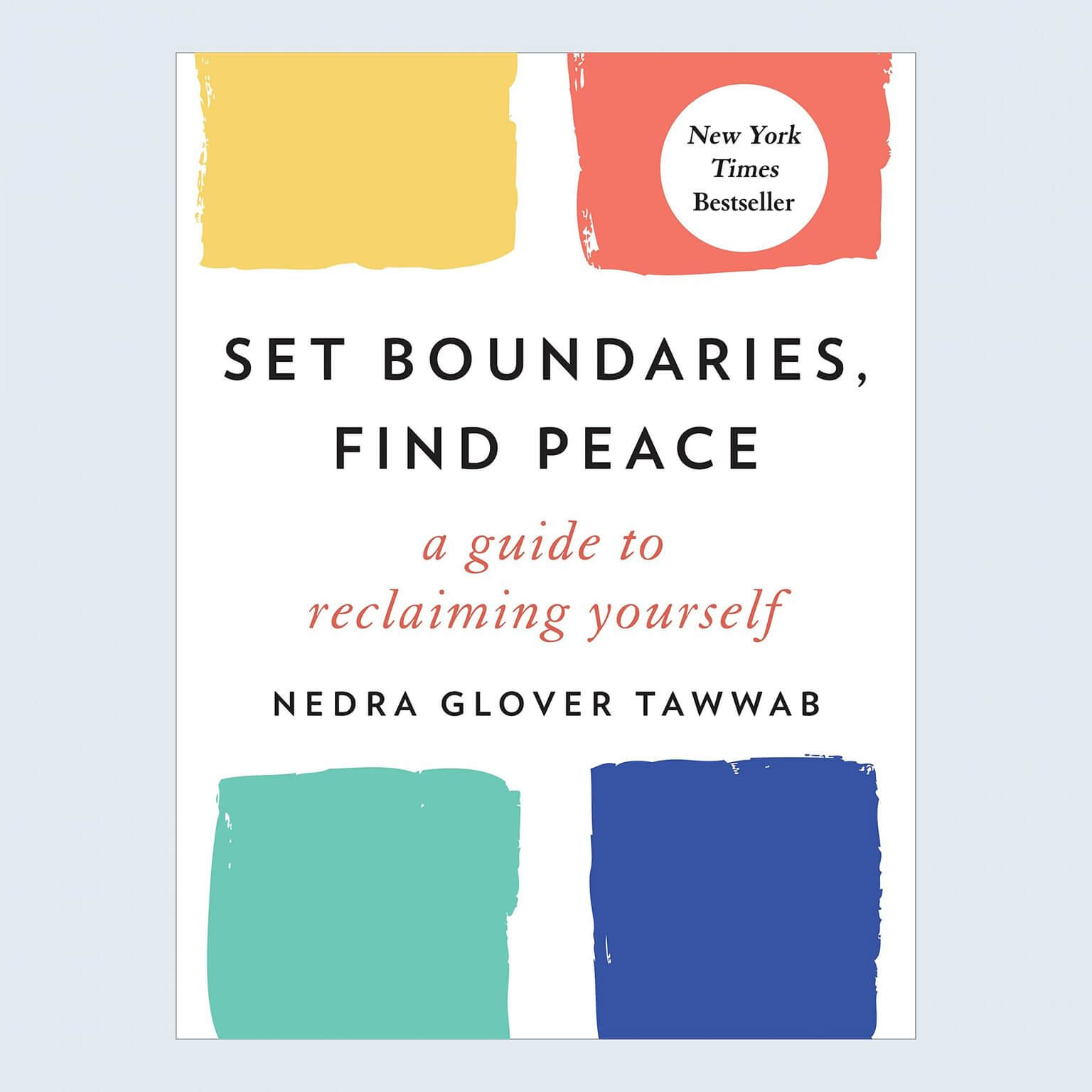 Set Boundaries Find Peace
Things change.
Things are supposed to change, but sometimes, people aren't as interested in that, so it's important that we understand how to not only appreciate our own accomplishments, but also how to talk to those who might be feeling the stress of the shift.
End the struggle, speak up for what you need, and experience the freedom of being truly yourself.
Blurb: Healthy boundaries. We all know we should have them – in order to achieve work/life balance, cope with toxic people, and enjoy rewarding relationships with partners, friends, and family. But what do "healthy boundaries" really mean – and how can we successfully express our needs, say "no", and be assertive without offending others?
Licensed counselor, sought-after relationship expert, and one of the most influential therapists on Instagram Nedra Glover Tawwab demystifies this complex topic for today's world. In a relatable and inclusive tone, Set Boundaries, Find Peacepresents simple-yet-powerful ways to establish healthy boundaries in all aspects of life. Rooted in the latest research and best practices used in cognitive behavioral therapy (CBT), these techniques help us identify and express our needs clearly and without apology – and unravel a root problem behind codependency, power struggles, anxiety, depression, burnout, and more.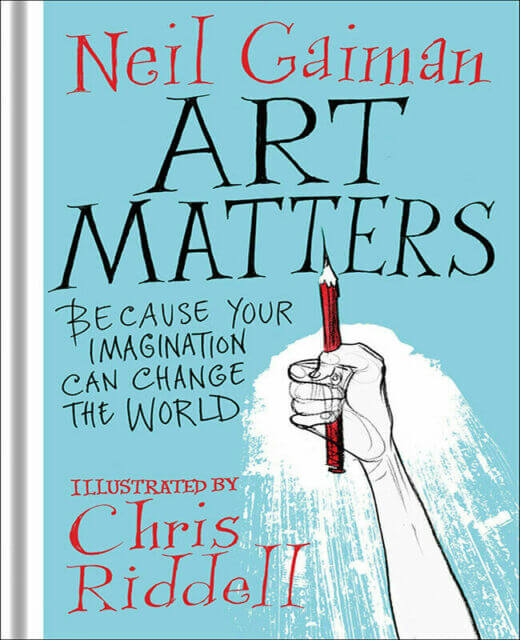 Art Matters-Because your Imagination Can Change the World
You've graduated. How tremendous, but it doesn't mean you have to give up your creative side. If you love painting, but didn't gert an art degree, nothing says you still  can't paint. Take an informal class, Painting with a Twist.
Love photography? Keep practicing, watch Youtube videos from photographers.
Get Masterclass and do a bit of everything.
Keep making art!
Blurb: Drawn from Gaiman's trove of published speeches, poems, and creative manifestos, Art Matters is an embodiment of this remarkable multimedia artist's vision – an exploration of how reading, imagining, and creating can transform the world and our lives.
Art Matters bring together four of Gaiman's most beloved writings on creativity and artistry:
"Credo", his remarkably concise and relevant manifesto on free expression, first delivered in the wake of the Charlie Hebdo shootings

"Make Good Art", his famous 2012 commencement address delivered at the Philadelphia University of the Arts

"Making a Chair", a poem about the joys of creating something, even when words won't come 

"On Libraries", an impassioned argument for libraries that illuminates their importance to our future and celebrates how they foster readers and daydreamers.
Art Matters is a stirring testament to the freedom of ideas that inspires us to make art in the face of adversity and dares us to choose to be bold.
Have any books I should read? Which are your favorites?
Drop your comments below.
Keep on reading, Peeps!