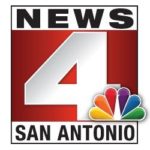 Patricia Fischer is chatting with Claudia about a variety of book picks that will make a great gift for Mother's Day.
Claudia Garofalo helps viewers through their daily commute as the traffic reporter each weekday on News 4 San Antonio Today, and a regular correspondent on San Antonio Living.
Claudia is a professional singer, and radio and television personality. With a passion for music and the entertainment industry, Claudia tapped into radio and television at the young age of 18. She served as a radio and television personality with Univision Broadcasting Group. She was best known for gracing the airwaves on The Beat 98.5 and KXTN 107.5
Claudia was cast on a national reality television show 'Nuevas Voces de America' in 2005. Hand-picked by music mogul Emilio Estefan himself, Claudia worked under Estefan Productions and Telemundo Television in Miami, Florida. Claudia also participated in American Idol, season 7, making it all the way to the Hollywood round.
Born and raised in Del Rio, Texas in 2008, Claudia served as a journalist for the Del Rio News-Herald. She was well known for her feature stories and strong photography skills.
An active performer, Claudia is a registered songwriter and has released two professional albums under the Universal Mexico music label and MP of Miami, Florida. She has also performed the National Anthem for the San Antonio Spurs.
Claudia's biggest joy in life is her 5-year-old daughter Avah, and husband, News 4 San Antonio's Michael Garofalo. In their spare time, they enjoy outdoor sports and road trips.